The Power of Preparing for Tomorrow
AFR Life has several excellent life insurance products to meet the various needs of our customers. At AFR Life, we take a 'needs based' approach to our products. The primary purpose of life insurance is to cover a financial need. Some needs are longer term or more permanent, such as the need to cover final expenses and funeral costs. These needs will be with us for our entire life. Other needs are more short or intermediate needs, such as covering the cost of a mortgage or providing income to support a young family with children. Whether 10, 20 or 30 years, some needs have an end.
Your AFR Life agent can help determine the amount of your need based on your personal circumstances. AFR Life products fit into two main categories - whole life and term life.
Whole life insurance is a more permanent life insurance coverage. The premiums on this product can be level for the life of the insured and it builds a cash value. Whole life usually has higher premiums because it lasts longer. However, we offer different payment plans (Single Pay, 20-Pay, Pay to 65) that can lower the overall cost of longer coverage.
A Term Life policy provides guaranteed, level premiums during a specified term period. Also, the policyholder may have the option to convert some or all of the term insurance coverage to a whole life insurance policy without additional underwriting. The life insurance product you choose should be based on your needs.

Our Flex 20 plan offers a number of coverage options that allow you to design the coverage that meets you needs.

Advantage Term is a mid-range cost level term product that does not require a medical exam.

Whole Life Insurance covers you while you're living and will help your family when you're gone.

Youth Life is a whole life product that is issued on children ages 0-18 and provides lifetime level coverage to age 100.

With this plan, you'll have peace of mind as you send your new driver off into the world.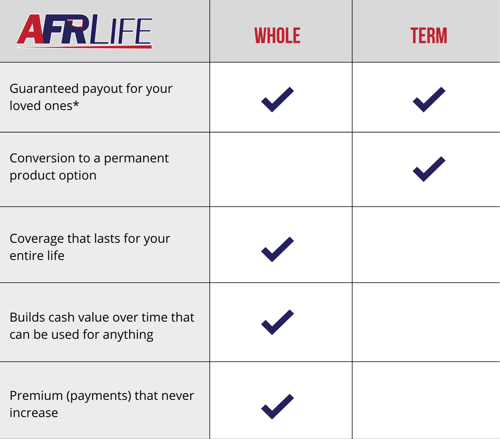 * As long as policy is active and premiums paid